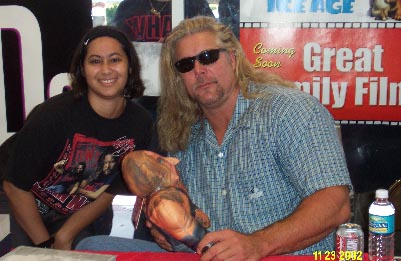 Can You believe this! This was when Kev came down to Ft. Lauderdale to sign autographs when tickets went onsale for Dec 02' PPV Armageddon! I could die happy now. Yes he did sign my Kev doll that's in his hands. He said "oh like like me". Ahhh.
He's still my Big Daddy Cool!!


This is only the beginning....
This is only the beginning of my Kevin Nash Page. Everyone has 2 start somewhere. "Big Sexy" himself didn't climb 2 the top of the wrestling ladder that quickly. This is only the beginning....
The links:

Nash's Stats
The Kevin Nash Bio Kevin Nash's Wrestling History As provided on the Big Sexy Website.
Pics of Nash
Look at those eyes. Makes me want 2 jump right into the picture.
Look. He's looking at U. He's just calling your name.
nWo

NASH'S WORLD ORDER

4 LyF

Here's a list of cool links: