That's me on a good day!!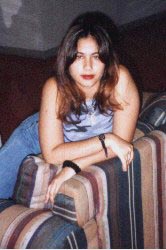 Hi. As I introduced myself before, Rosie. I was born on Miami Beach about 22 years ago.
Yeah, I'm a LEO!! Below is a pic of me on Miami Beach.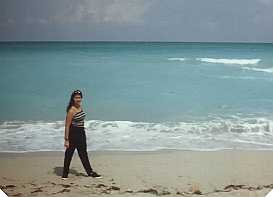 My "Papi" is from Puerto Rico. My mom is Jewish and is from New York. That makes me a JAPP. (Jewish American PuertoRican Princess) Sad but true, I can't really speak Spanish. I understand it OK, but my Spanish is like the Ebonic version of Spanish.
I attended Knobel pre-school, Oak Grove Elementary, Thomas Jefferson Middle (TJ), and North Miami Beach Senior High (NMB). I graduated in 1997. I just graduated Johnson and Wales University in North Miami, Florida. I now have a an Associates Degree in Baking and Pastry Arts. I did attend Hofstra University in Hempstead aka Long Island New York 4 like a minute. I plan to work for a while and save some money... ok. who am I kidding...


By my page, U can tell I'm very into music. I especially like high school band. I don't know why, I just do!! I guess that's why I sometimes hang around my old band. It's also an excuse 4 me 2 play. I play the trumpet, french horn, alto and bari sax, and the flute. So many people expected me 2 go 2 college 4 music. Sometimes I regret the decision of not going.

I love my friends. They're alwayz there 4 the support I need. And it seems in the past, I've needed a lot of it
I love my sisters 2. My sorority sisters of Alpha Theta Phi that is. Even though ya'll f**k with me, I've found out (in interesting ways) that ya'll really care. (ranking doesn't count as caring) The frog below represents our sorority mascot, which is the frog. (that's especially 4 U, Ama)

If U've been 2 my Wile page, U'll see that I had said that we are alike. Wile is a "super genius". I'm not a super genius, but I'm pretty smart. Wile does stupid things over and over. I do the same. He's misunderstood. Me too. He's not that lucky. That's my catch phrase. And finally, he chases after something he'll probably never get. That's how I feel about life period. Below, I make that face a lot!!